Vale Professor Howard A Morris









VALE





Professor Howard Morris PhD, FAACB, FFSc (RCPA).


It is with deep sadness we acknowledge the unexpected and untimely death of our colleague and friend Professor Howard Morris.


Howard was participating in a visiting lecture tour representing the International Federation of Clinical Chemistry (IFCC) at a clinical biochemistry conference in Kazakhstan at the time of his passing.


Professor Morris was an accomplished medical scientist, educator and administrator. He was an ANZBMS member for many years (including a council member 1997-1999) and regularly attended meetings. He received the Career Achievement Award from ANZBMS in 2015. 


In 1982 Howard joined the Division of Clinical Biochemistry, at the Institute of Medical and Veterinary Science (now SA Pathology) in charge of the Endocrine Laboratory. As a Clinical Scientist, he had 30 years of experience working in diagnostic clinical biochemistry in the field of immunoassay and endocrinology including management of a major clinical endocrinology laboratory. In recent years Howard concentrated most of his efforts on furthering international focus on quality of the complete test cycle from sample collection to patient outcome. He was able to articulate his message through various roles he has had within the IFCC. 


Howard brought to Adelaide research skills that he honed during his PhD studies at Sydney University and during his post-doctoral years in St Louis, USA and Brisbane. He was a major contributor to metabolic bone disease research in Adelaide and along with Professors Chris Nordin and Allan Need focussed on detailed characterisation of the patient in order to individualise treatment. Over the next 30 years Howard made major contributions to the development of laboratory models used to advance research into metabolic bone disease such as the commonly used ovariectomy-induced bone loss model for post-menopausal osteoporosis. He was also recognised internationally as an authority on the role of vitamin D in determining bone health. Howard's work lead to the publication of more than 280 scientific and clinical papers and edited books on metabolic bone disease. He was recognised internationally for his contributions to bone and mineral research and education when invited to deliver the Louis V Avioli Memorial Lecture at the American Society for Bone and Mineral Research Annual Meeting in 2009. 


Howard made major contributions to science and medical administration. He was the current President of IFCC, the first Australian appointee to this important role. Between 2012 and 2014 he served as IFCC Vice-president; between 2003 and 2008 he was the Secretary of the Scientific Division of the IFCC; served as Chair the IFCC-International Osteoporosis Foundation Joint Working Group on Standardization of Bone Turnover Markers (2012-2017); member of the IFCC Task Forces on the Global Campaign on Diabetes Mellitus (2003- 2008) and on International Clinical Liaison (2009-2011). Within the Asia Pacific Federation of Clinical Biochemistry (APFCB) he served as Chair, Scientific Committee (2002-2004) and Chair, Scientific Organising Committee, Member Organising Committee for the 10th Asian Pacific Congress of Clinical Biochemistry (2002-2005). He was the Australasian Association of Clinical Biochemists (AACB) representative to the Councils of the IFCC and APFCB (1998-2004), served on AACB Council (1998-2002) and Editor of the Clinical Biochemist Reviews (1994-2002). He was awarded an AACB Outstanding Service Medallion (2003) and the W. Roman Travelling Lectureship (2004). Between 2003 and 2009 he was the Director of the Hanson Institute which administered infrastructure to support the research of some 300 staff and 100 postgraduate students.


Howard was a passionate educator as a Professor of Medical Science in the School of Pharmacy and Medical Science, University of South Australia and affiliate title-holder at the University of Adelaide. Howard supervised and mentored numerous local and international honours, Masters and PhD students, with many students going on to successful careers in research and the health sector. Howard also contributed to the programs of undergraduate teaching at UniSA and the University of Adelaide. Howard was always available to staff and students to help them understand challenging physiology and pathology concepts and to discuss issues relating to quality in the pathology laboratory.


While many of us enjoyed discussing science with Howard it may be his demeanour that is remembered by most. His relentless optimism and good humour was a huge support to others looking for encouragement. Howard was intelligent, informed, broadly interested in things and loved stimulating conversation. He was encouraging, energetic, hard-working, and had high standards. He had a larger-than-life sense of humour - not many who worked with Howard would have failed to hear his infectious and frequent laugh.


Howard took up sailing when he was in his forties, and like all things that Howard did, he attacked the challenge, determined to become the best he could be at the task at hand – to focus on the destination; not be put off by the challenges presented by weather and unpredicted obstacles; work with the conditions; reset your bearings and continue to your destination. That character was in Howard's nature.


Above all, he was a gentleman and a professional in all that he did. 


We extend our deep sympathies to Howard's partner, Helen Martin, his daughter Lisa and to his family.





Peter O'Loughlin, Paul Anderson and David Findlay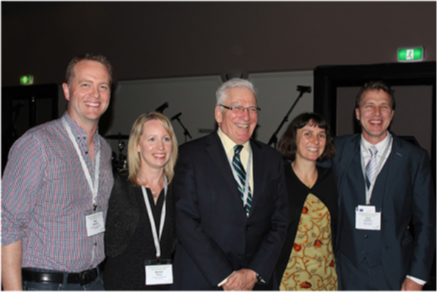 Publication Date : 09 May 2019