2018 Clare Valley Bone Meeting
10th Clare Valley Bone Meeting in association with Australian and New Zealand Bone and Mineral Society

On the weekend of March 23-26 we ran the 10th Clare Valley Bone Meeting at the Clare Conference Centre. This was an exceptional meeting focusing new developments in basic and clinical science of the skeleton. We were privileged to hear from Professor Tamara Alliston, from UCSF, on the actions of TGF-beta in bone homeostasis; Professor Anna Teti, from The University of L'Aquila in Italy, on lipocalin 2 actions in bone; Professor Xu Cao, from Johns Hopkins University in Baltimore, on his exciting work showing a causal role for TGF-beta in osteoarthritis; and Dr Fintan Moriarty, from the AO Group in Davos Switzerland, on modelling bone infection. In addition, more than 20 speakers from around Australia presented their cutting-edge musculoskeletal research, in an environment that was cross-disciplinary, interactive and very stimulating. Numerous new connections were made as researchers became aware of work that is occurring outside of their immediate research domain, and emerging researchers were given a wonderful opportunity to both present their work, as well as to meet with established investigators in a safe and friendly environment. Approximately half of the attendees identified as ANZBMS members. The meeting, co-badged with the ANZBMS, was supported by sponsorship from the Hospital Research Foundation, Zimmer Biomet, Amgen, Smith and Nephew and Global Orthopaedic Technologies.

Join us for the 11th Clare Valley Bone Meeting in 2020.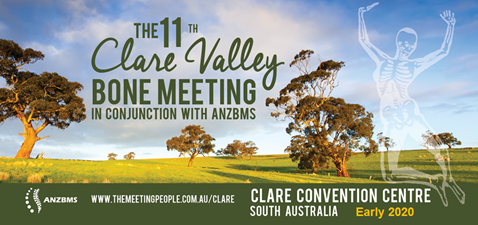 Publication Date : 16 August 2018