2020 Clare Valley Bone Meeting

The Clare Valley Bone Meeting (CVBM) has an established place in the Australian meeting calendar, with ten biennial meetings having taken place between 2000 and 2018. The Eleventh Clare Valley Bone Meeting took place between 28 February and 2 March, 2020 at the Clare Convention Centre, Clare, SA. This was held in conjunction with ANZBMS, as we did in 2018. The CVBM provides an excellent additional opportunity for ANZBMS members and MSK researchers in general, to the traditional and larger ANZBMS Annual Scientific Meeting. It is always held in the first quarter of the year as opposed to the ANZBMS ASM in the latter quarter. It is a single auditorium style meeting so that all attendees can participate in all sessions, in an intimate gathering of clinicians, basic scientists and representatives of industry research and development, in the field of Bone and Joint, providing many opportunities for engagement.
The 11th CVBM meeting was funded by a support package from ANZBMS, together with new industry sponsorship: Gold Sponsor - Adler Ortho Australia, Silver Sponsor - Amgen, Bronze Sponsors - Bone Health Foundation, Smith and Nephew, Other sponsor Ortho-Cell.
The number of delegates was somewhat lower this year than the usual 70, in part due to COVID-19-related travel restrictions, with just over 50 registrants. However, this was another exceptional meeting. We sought to explore four interrelated major themes the Organising Committee regarded as in need of attention:
Bone Health throughout our lifetime
Human movement, biomechanics and bioengineering
Understanding, prevention and treatment of bone infection
State-of-the-art understanding of bone cancer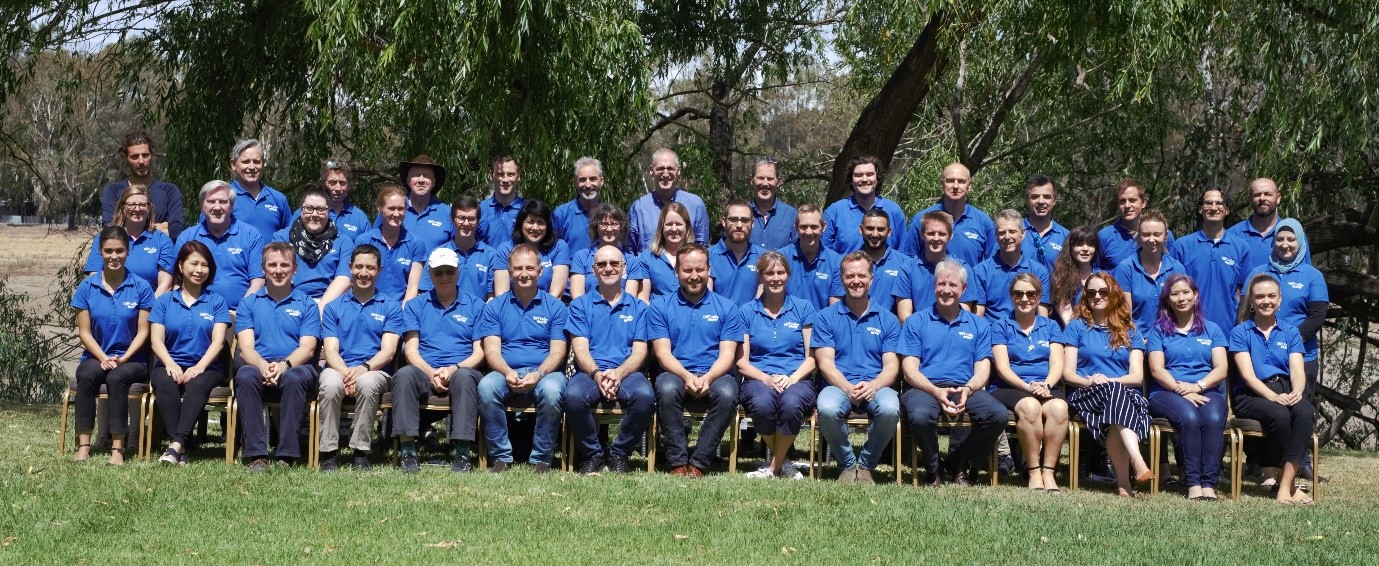 The first theme, 'MSK health throughout our lifetime', pervaded the entire meeting but was also specifically addressed. We explored the effectiveness of current surgical interventions in adults for hip and knee osteoarthritis (Prof. Ian Harris, South Western Sydney Clinical School), the consequences of surgical intervention for sport-related injuries in younger adults (Dr. David Martin, AO, SportsMed, Adelaide) and the treatment of developmental hip dysplasias in infants (Dr. Nicole Williams, Women's and Children's' Hospital, Adelaide).
Professor Christopher Hernandez (Cornell University NY, USA) delivered an intriguing Keynote presentation on the role of the gut microbiome in MSK (and general) health, as well as its emerging importance for orthopaedic infections. Assoc. Prof. Paul Anderson (University of South Australia) spoke about the influence of vitamin D on MSK health and fracture risk. Dr. Alice Burke, Head of Gerontology at the Royal Adelaide Hospital, spoke about the post-fracture management of elderly people having already suffered a hip fracture. There was some excellent insight into technology-driven improvements in patient care through the juxtapositioning of scientists with industry (Prof. Karen Reynolds, Medical Device Partnering Program, Flinders University) and how patient care can be improved by better understanding of the underlying biomechanics (Dr. David Ackland, University of Melbourne).
Assessment of patient outcomes was a strong sub-theme of this meeting. Our international Invited Speaker, Dr. Bernd Grimm, Luxembourg Institute of Health, spoke on the clinical use of state-of-the-art activity monitoring of human movement and the applications in bone health. Dr. Jasvir Bahl (University of Adelaide) presented his group's recent findings on patient activity following joint replacement surgery. For the first time we held a debate whose question was 'Should we look or listen? The value of Monitoring vs PROMS <patient reported outcome measures> in determining patient outcomes', with Bernd Grimm (Luxembourg Institute of Health) arguing in favour of monitoring, and Ian Harris (South Western Sydney Clinical School) putting the case for PROMS. This was both highly entertaining and informative, and was very well received by the audience.
The bone/orthopaedic infection theme was in response to the increasing incidence of such infections despite improvements in most if not all other aspects of orthopaedic management. We addressed both the current diversity in clinical management (Assoc. Prof. David Campbell, Calvary Hospital, Adelaide), the current disease burden in Australia (Dr. Josh Davis, Menzies School of Health Research, Newcastle), as well as emerging host factors (Prof. Chris Hernandez, Cornell), as well as pathogen factors (Dr. Stephen Kidd, University of Adelaide).
Another major area of MSK disease that was addressed is that of bone cancer. Expert clinical insight into solid tumours of bone was given by Dr. Jakub Jagiello (The South Australian Sarcoma and Bone Tumor Unit, Adelaide). Dr. Maya Kansara (Garvan Institute) spoke regarding the relationships between psoriasis and osteosarcoma. Prof. Peter Croucher (Garvan Institute) and Dr. Kate Vandyke (SAHMRI) spoke to the latest insights into multiple myeloma.
The entire meeting programme can be viewed at: https://clarevalleybonemeeting.com.au/
We're looking forward to CVBM XII scheduled for early 2022. We hope that the world has returned to a semblance of normality and we can hold this and other such meetings to take advantage of the rich resource of human interaction. We look forward to seeing you there!
Gerald Atkins, on behalf of the Organising Committee.
(Paul Anderson, David Findlay, Bogdan Solomon, David Campbell, Jakub Jagiello, Peter Smitham, Karen Reynolds)