Sol Posen Research Award
This Award is named in honour of Professor Sol Posen who was one of the pioneers in the field of bone and mineral endocrinology in this country. Sol Posen's contributions span the range from basic biochemistry – his citation classic in Clinical Chemistry described the first means of distinguishing alkaline phosphatase of bone origin – to clinical studies in metabolic bone disease, including Paget's disease, osteoporosis, hyperparathyroidism and tumour-induced osteomalacia. He attended meetings and journal clubs, where his presence was marked, as ever, by his propensity to ask incisive questions.
Eligibility Criteria
The applicant must have been a financial member of the ANZBMS for at least 12 months at the time of application.
The applicant must be undertaking a higher degree, or be within of 5 years full-time equivalent of obtaining their higher degree (ie. PhD, Masters, FRACP or equivalent).
No one publication can receive the award more than once, although applicants can submit the same publication in different years.
Applicants should be the first author of the publication.
The date of publication will be considered as the date that the final 'print' version of the manuscript first becomes available online and this date will need to be listed on the application. The 18 month eligibility window for a manuscript is relative to this date.
Selection
The award is based on the best paper published in the 18 months prior to the closing date of the award.
Award Amount
$1000 AUD
Application Deadline
21 July 2023
Application Process
To apply complete the online Sol Posen Research Awards Application Form.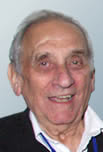 Prof Sol Posen
Past Recipients
2022
Kai Chen
2021
Niloufar Ansari
2020
Jungie Gao
2019
Kai Chen
2018
Nicola Lee
2017
Thao P. Ho-Le
2016
Paul Lee
2015
Dana Bliuc
2014
Heath McGowan
2013
Farzin M Takyar
2012
Julie Quach
2011
Kylie Alexander
2010
Tak Sum Cheng
2009
Ming-Kang Chang
2008
Haotian Feng
2007
Aaron McDonald
2006
Nathan Pavlos