Christopher and Margie Nordin Young Investigator Poster Award
Background
This award is named in honour of the outstanding and major clinical investigations into disorders of bone and mineral metabolism made by Professor Christopher Nordin and his contributions to the ANZBMS. Professor B.E Christopher Nordin was a senior specialist at the Institute of Medical and Veterinary Science in Adelaide, and the man credited with drawing the medical community's attention back to the link between calcium deficiency and osteoporosis (brittle bones).
Prof. Nordin did his medical training at University College Hospital in London, graduating in 1950. In 1952, he went to Hammersmith Hospital, the postgraduate medical school, where he developed an interest in the link between calcium and bone strength. After more than 20 years in Britain, many as director of the Medical Research Council's Mineral Metabolism Unit in Leeds, Prof. Nordin moved to Adelaide in 1981 to take up a position at Royal Adelaide Hospital; where, instead of retirement, he wanted the excitement of setting up a new osteoporosis research group.

Professor Nordin was also the World Health Organisation's calcium expert, a visiting professor of medicine and pathology at the University of Adelaide and a emeritus specialist in endocrinology at Royal Adelaide Hospital. Prof. B.E.C. Nordin's work was honoured by the American Society of Bone and Mineral Research by the Frederick Bartter award in 1998.
Eligibility Criteria
The applicant must be a student within an Australian or New Zealand institution.
The applicant must be a financial member of the ANZBMS member or have applied for ANZBMS membership within the last 12 months.
Selection
The Programme Organising Committee will be responsible for selecting a short list of candidates for this award on the basis of abstract quality. A panel of judges will assess the short-listed presentations at the conference to select the winners.
Award Amount
$1000 AUD
Application Deadline
21 July 2023
Becoming an ANZBMS Member
If you are not currently an ANZBMS member you must apply for ANZBMS membership by the Application Deadline to be eligible for this award. Membership information and application form can be found in the Membership section of this website.
Applying for this Grant
Apply online when submitting your abstract at the ANZBMS Annual Scientific Meeting website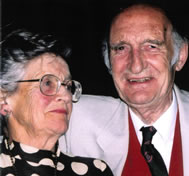 Margie and Prof Chris Nordin
Past recipients:
2023
Krisel De Dios
2022
Selwin Gabriel Samuel
2021
Amy Ribet
2020
Ruby Oberin
2019
Amy Ribet
2018
Alexander Rodriguez
2017
Scott Youlten
2016
Audrey Chan
2015
Dzenita Muratovic - Clinical
Scott Youlten - Basic
2014
Masato Koike
2013
Yu Wen Su
2012
Alvin Ng
Runner up
Marie-Luise Wille
2011
Shek Man Chim
2010
Kylie Alexander
2009
Ee-Cheng Khor
Abstract (60KB)
2008
Hasnawati Saleh
Abstract (71KB)
2007
Taksum Cheng
Abstract (17KB)
2006
Andrew Hattam
Abstract (70KB)
Estabelle Ang
Abstract (80KB)

2005
Mark Bolland
Catherine Wang

2004
Laura Gregory
Mark Bolland

2003
Nicole Walsh
Rouha Granfar

2002
Nathan Pavlos

2001
Rebecca Jackson

2000
Josef Kaplan

1999
Tanya Uebergang

1998
Marianne Holzherr

1997
Anne Nelson
Hidenori Murata